Introduced in 1959, The Gibson ES-330 is one of many jewels in the Gibson ES line. Often overshadowed by the ES-335 and its brother from another mother, the Epiphone Casino, the ES-330 has been pressed into service by players such as Grant Green, Brian Jones, and B.B. King. Gibson's Memphis, Tennessee, Custom Shop has brought this beauty back to life with an eye-catching "aged" reissue that gives this classic instrument the props it deserves. Sporting a VOS (vintage original specification) sunburst lacquer finish, the ES-330 pops visually, but it also exudes a satiny, worn-in quality that is easy on the eyes. The binding on the body and neck are aged to the point that they look like they have spent the past 40-plus years drinking coffee and smoking cigarettes, and the scatter-wound "dog ear" P-90s sport rusty polepieces that further add to the ES-330's half-century-old vibe. These elements contrast with the nut and tuner buttons, both of which are pure white.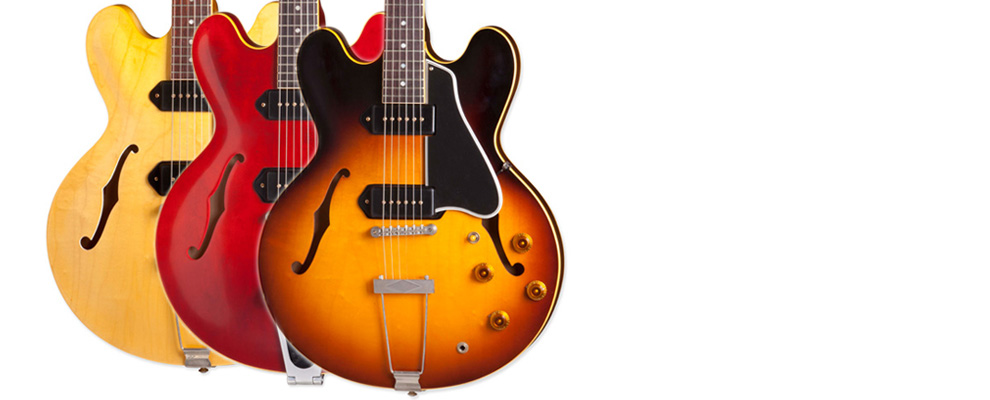 The minute I picked up the ES-330, I knew I was cradling a winner. It plays beautifully and exudes the ultimate in vintage cool. The classic neck shape is inviting to play, and, quite frankly, makes the ES-330 tough to put down. Everyone who came in contact with the guitar gushed about its playability and its tasty worn-in looks. Sonically, the ES-330 doesn't miss a beat. The hollow body in conjunction with the trapeze tailpiece make for a lively sounding guitar–both plugged in and acoustic–and the tones leap out of the body and the speaker as the guitar bursts with sonic energy. Running through a '52 tweed Fender Deluxe or a late-'60s Princeton Reverb, the ES-330's tones are pure vibe, with a beautiful amalgam of chime, barky midrange complexity, and a lush burnished texture that can work in a variety of musical contexts. Hell, you can even mic the ES-330 acoustically and use it on a track–it's that loud.
The ES-330 yearns to be plugged into a cranked tube amp where it can respond beautifully to every nuance of your playing. Some players may be bugged by the neck joining the body at the 16th fret, as it limits high-position access, but I found it refreshing as you get coaxed into a different way of thinking when you're playing, urging you to respond to what the instrument is willing to give. From jangle to rockabilly to badass blues, the ES-330 can deliver. It features a unique sonic signature that is a boon for anyone searching for a tone tool that isn't the garden variety Strat, Tele, or Les Paul thing. The ES-330 is lovingly crafted and it shows in both its outstanding cosmetics and wonderful playability and tones. Most excellent!